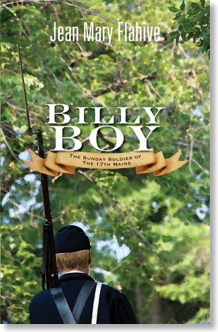 Billy Laird, from Berwick, mustered in the 17th Maine to serve with his friends in the Union Army. Mentally challenged, Billy is ill-prepared for the training and fighting that follows, but he gets by with the help of his friends. Soon, however, he is sent alone to a different unit. Frightened and unsure of what to do on his own, Billy runs off and meets up with a runaway slave, Elijah. Together they make their way north on a perilous journey from Virginia to Maine, aided by compassionate Quakers and the Underground Railroad. As Bill Bushnell writes in a Kennebec Journal review, "They make it to Maine, but it's not the sanctuary they sought. Betrayal awaits one, a solemn promise awaits the other." What ultimately happened to Billy is a matter of record.

"Billy stood in front of the fire and watched a heavy mist creep through the camp. Drizzle seeped through his clothes, chilling him. Finally he ducked into the tent and found Leighton on his knees spreading the blanket across a floor of hay before he crashed his bulky frame down on top of it. Billy sat down beside him, pulled off his boots, and rested his chin on his knees.
"Leighton?" he asked quietly.
"Yeah?"
"You scared of fightin'?"
"Naw." He heard Leighton yawn. "Wrestled too many ornery bulls to be scared of a few Johnnies."
"You thinkin' I'll be a good soldier?"
"Don't rightly know if I'll be a good one." Leighton yawned again, rolled on his side. "We gonna die? Harry says we won't take a bullet – "
"Truth is, we ain't all comin' back, Billy Boy."
Leighton's words frightened Billy. Staring into the darkness, he hesitated for several moments.
"If I don't like it and all, can I go home? I can find my way."
Excerpts of Billy Boy reviews:
"This is a fabulous tale well told."

-Kennebec Journal

"This first novel is a glorious tour de force. Never have I read a more compelling and sympathetic portrayal from within the mind of the mentally challenged… I did not come up for breath as the story rolled along, every beat strong and right."

-Historical Novels Review magazine

"Readers will think of Harriet Beecher Stowe's Uncle Tom's Cabin, Mark Twain's The Adventures of Huckleberry Finn and Stephen Crane's The Red Badge of Courage. Just as each of these classic American novels has a distinctive flair…Billy Boy has its own style, emphatically sensuous."

-The Quoddy Tides

"Flahive's directive skill of rendering conversation throughout her book is remarkable. We are there in the space with Elijah and Billy, with Harry, with the troops under fire in the reality of what it now means, their mustering up for a dangerous rarified cause. . . . Flahive is surely one to be studied for her craftsmanship, her extraordinary interweaving of researched history and imaginitive realism. We see war and its sinister turnings, and the moments of unexpected enlightenment through an inner connection."

-Maine Sunday Telegram