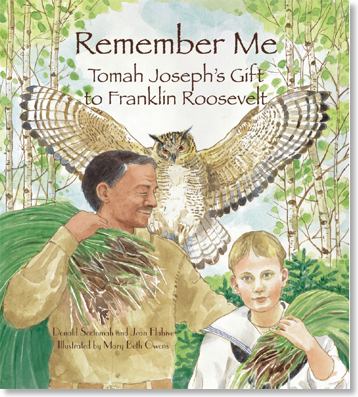 Franklin Delano Roosevelt, the man who would become the thirty-second president of the United States, joyfully spent his boyhood summers on Campobello Island. It was there that he met Tomah Joseph, a Passamaquoddy elder and former chief who made his living as a guide, birchbark canoe builder, and basketmaker. The story imagines the relationship that developed between these two as Tomah Joseph taught young Franklin how to canoe and shared some of the stories and culture of his people. A beautifully decorated birchbark canoe that he made for Franklin remains at Campobello Island, a tangible reminder of this special friendship.

Tilbury House Publishers have a wonderful
Teachers Take Note
page on their website outlining curriculum for grades 3-6 as well as list of related online resources.


"
Remember Me
is a wonderful story that describes not only the magic and mystery of our ancestral homeland but the giving nature of our elders."

-David Moses Bridges, Passamaquoddy master canoe builder


Remember Me
is the winner of the Moonbeam Gold Award for 'Best Multi-Cultural Children's Picture book for 2009.
Remember Me
was co-authored by Donald Soctomah and illustrated by Mary Beth Owens.

Donald Soctomah is a member of the Passamaquoddy tribe, serves as his tribe's representative in the state legislature, and is a tribal historian. He has written seven books about Passamaquoddy history and culture. Donald lives with his family at Indian Township near Peter Dana Point, where Tomah Joseph spent most of his life.

Mary Beth Owens has illustrated many beautiful children's books, including Rosebud and Red Flannel, A Penny for a Hundred, Be Blessed: A Celebration of Seasons, The Gazebo, The Story of Sea Glass, Panda Whispers, and The Dump Man's Treasures. She lives in Walpole, Maine.